Love your sister
by
Johnson, Connie; Johnson, Samuel
Hachette, Sydney, NSW, 2016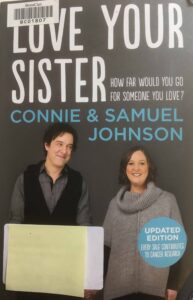 Connie and her brother Samuel Johnson tell the story of Connie's multiple cancer diagnoses, and how they supported each other.
Categories: Breast Cancer, Women's Stories
Subjects: Families, Relationships
Request this item
Please note: Library items can only be posted within Victoria, Australia. We will contact you for your mailing details.
Last Updated: 25 February, 2020 12:58 pm